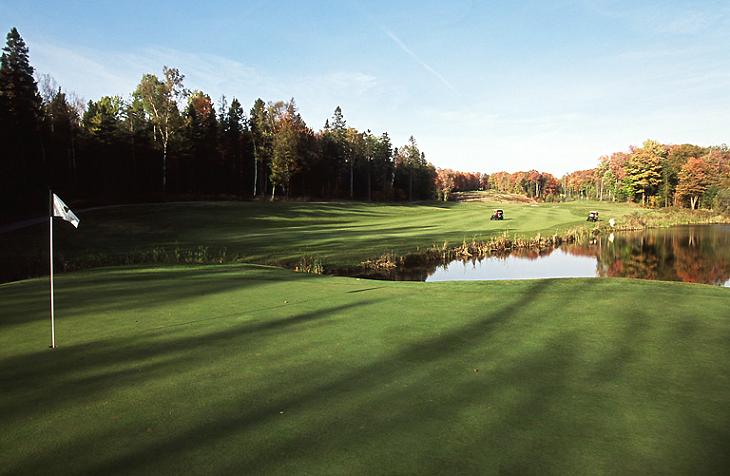 "The golf tourism industry could grow by nearly 30%, generating a potential £300m for the Scottish economy by the end of the decade, according to a new study. The research, which included a survey of Golf Tourism Scotland members, looks at the potential growth and economic impact of the market in Scotland over the next ten years. It found that despite the recession and continuing economic challenges, the golf tourism market has remained relatively resilient with nearly 80% of respondents expecting to see positive growth over the next decade.
The study, 'An Assessment of Golf Tourism's Future Growth Potential to 2020', was commissioned by Scottish Enterprise and Highlands and Islands Enterprise with support from Visit Scotland and Golf Tourism Scotland. It aims to provide a better understanding of the scale of opportunity within the golf tourism market and its size to help identify new opportunities, lead to business growth and increase income and employment across Scotland.
Eddie Brogan, director of tourism, Scottish Enterprise, said: "Golf tourism offers huge possibilities for the Scottish economy and this study gives businesses real ideas of how to maximise this potential. But to achieve the predicted growth rate of nearly 30%, public and private sectors need to work closely together to identify and take advantage of the opportunities available.
[toggle_content title= »Plus Sur Golf Tourism may grow nearly 30% by 2020… »]
"Many other countries are developing golf tourism with the aim of raising their market share, and despite Scotland's accolade as the 'home of golf' we need to work hard to secure this position in the global marketplace. The quality of our courses is one of our greatest tourism assets but golf clubs need to develop a range of business skills and become much more commercially focussed as part of a customer-led approach to attracting even more golfing visitors.
"Events such as the Ryder Cup in 2014 have already led to better closer working practices across the sector, and Scottish Enterprise is committed to working with the industry to secure new business opportunities in the golf tourism market."
According to the study, over the next ten years, the largest growth in visitor numbers is expected to come from EU countries (Germany, France Holland), from emerging markets such as India and China and the more mature markets of North America and Scandanavia are expected to experience slightly weaker growth. The UK however, will continue to be the largest market for golf in Scotland.
The research also strongly encourages golf businesses to work collaboratively to put together packages to attract visitors to Scotland. It highlights the online booking of hotels and transport and e-booking for tee times as key areas to focus on for increased growth and competitiveness. It also highlights the importance of both ensuring that the forthcoming Ryder Cup is used to help showcase Scottish golf and of communicating to Scottish companies the vast business opportunities that this event will bring.
Other key findings include:
There are opportunities to encourage more golf 'staycations' in the UK, encouraging UK residents to take golf holidays in the UK instead of abroad;
The 70 most visited courses in Scotland generate 75% of all the staying visitors' green fees;
The new Trump course at Balmedie, opening in 2012, will generate global interest and provide huge opportunities for local businesses.
Tourism Minister, Jim Mather, said: "Scotland is the home of golf, boasting more than 500 courses – from world renowned championship links to hidden gems dotted across breathtaking landscapes – and providing a unique selling point that attracts thousands of visitors every year from across the globe.
"As this research identifies, golf tourism is a rich asset, making a valuable contribution to Scotland's economy and carrying huge potential for future growth.
"It makes strong economic sense for Scottish tourism to work hard to boost global interest in our links to the sport, and in Scotland as a world leading active destination.
"That is exactly what we are delivering through our focus in 2011 on Active Scotland, one in a series of focus years leading toward a second year of Homecoming in 2014 – the year Scotland will host the Ryder Cup."
Chris Taylor, Head of Tourism, Food and Drink at Highlands and Islands Enterprise, added: "The Highlands and Islands is home to a diverse mix of golf courses, from hidden island gems to world famous links courses, and it is well positioned to take advantage of the steady growth in Golf Tourism.
"The recent announcement that the Barclays Scottish Open is to be held at Castle Stuart Golf outside Inverness, and investment by Southworth Golf in hotel infrastructure at the newly created Machrihanish Dunes, shows a desire and a commitment by the region to compete in a global market and to match the best in the world."
Sellected By : Golfing Travel Agadir Morocco from St Andrews Partnership
[/toggle_content]